Triglav for Smartphone
2018-03-09 19:39:27 | CharlieX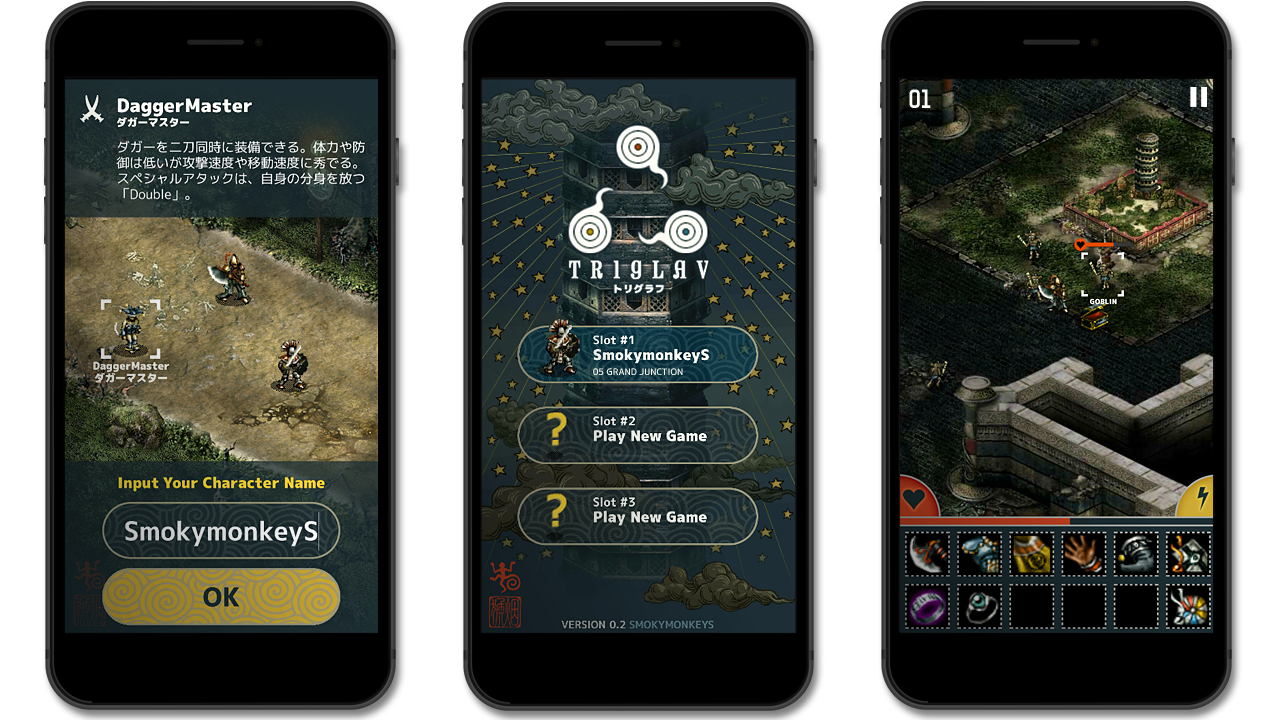 ▶ Japanese
▶ English

スマホ版 TRIGLAV 鋭意開発中。数ヶ月以内にAndroid版、のちiPhone版リリース予定。
操作方法や画面サイズなどが大幅に異なるため、オリジナルとまったく同じものにはならないけど、オリジナルもすでに16年も前のゲームで時代にあわない部分がちらほら見えるので、それらをアップデートしつつ新モンスターやアイテムなども追加しながら同時につくっていく。スマホ版はフルサウンドに加え、完全なスタッツ表示やアカウント間共有倉庫なども実装予定。お楽しみに。


Now we are working on Triglav for smartphone.
You will be able to play it by an about half a year on Android, next then we have a plan to release for iPhone.
We know how difference between web browser and smartphone and making it more suitable for each device without losing the fun factors. On the smartphone version, it has full sound effects, multiple languages, displaying complete player stats, and sharing item storage in an account. Wait till the next info!

Any Comment?
1396 Posts | Page 1/233
Aua
Amazing! I've been praying for an android port of Triglav for years!
nezael
I can't access to the website i don't know why i try on different pc's but nothing... Jakatak je veux bien de l'aide
asd8948
3月に入ったばかりでとても嬉しいニュースです。リリースしたら有料でも無料でも必ず遊ばせて頂きます。
Jakatak
Hello, bonjour,
@nezael, i am a french fan too, i can help you.
ninelives.ouvaton.org

SmokymonkeyS
@nezael You can find the link in About Us section right bottom of this blog. You can create the account on the game.
nezael
Thank's for your answer where can i get it ? An account is needed? If yes where can i make one ? Love your work so much
About this Blog
SmokymonkeySが現在開発中のゲームについて、あれこれ書いているブログです。 Unity3Dゲームエンジンを使っています。
This deblog is reporting work in progress of SmokymonkeyS from Japan. We use Unity3D game engine.
---
About Us
SmokymonkeySとは、2名のアマチュアによって結成されたユニットです。 ゲームやその他作品を無所属で個人開発しています。 2002年にJavaScriptベースのブラウザゲームTRIGLAVを公開。現在も稼動中で総勢50万アカウントを超える長寿ゲーム。
2015年、アクションRPG Ninelivesを公開。現在開発休止中。
2017年、新プロジェクト「Modoki」開始。
SmokymonkeyS is a two-man indie team by a programmer and a graphic designer, formed for creating games. Our 1st game TRIGLAV, a web RPG that has been made with JavaScript has made over half a million accounts since it launched 2002. On 2015, our 2nd game Ninelives suspended the development at Alpha stage.
On 2017, we started to launch the new game project called Modoki.