Based on XP/Kills
2018-06-05 12:37:49 | CharlieX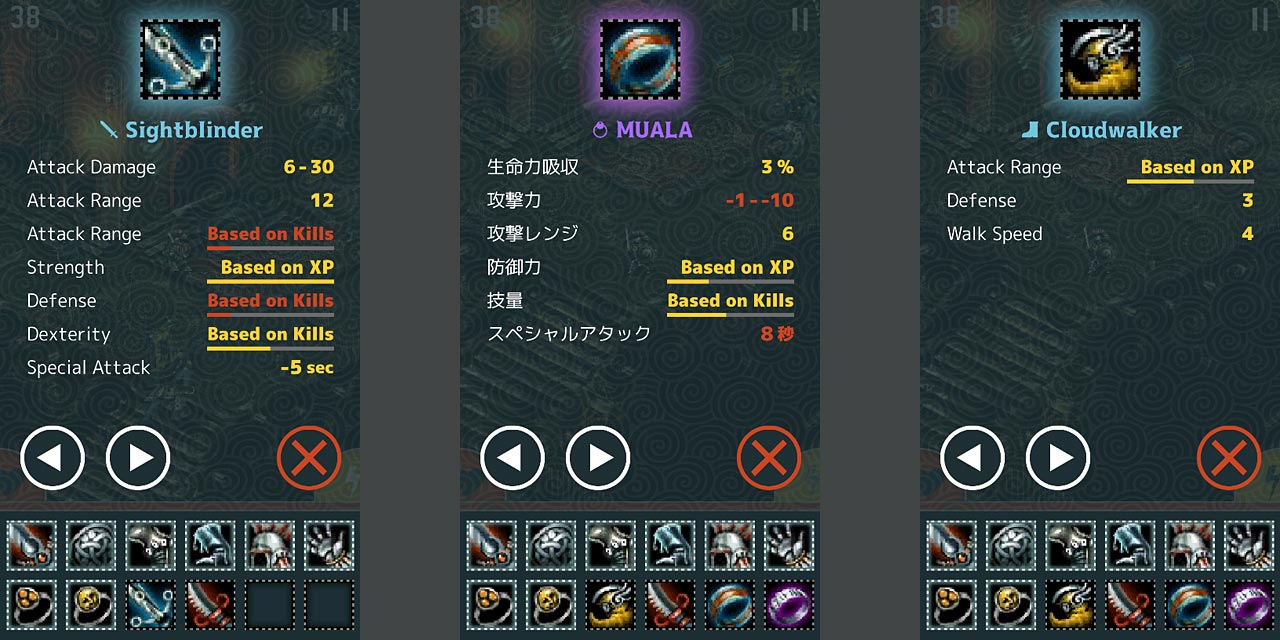 プレイヤーの成長に合わせてアイテムスタッツが変化する「Based on XP/Kills」には、今そのアイテムがどれくらいの成長段階なのかを相対的に示すバーゲージが追加される。
On the mobile version, the Based on XP/Kills attributes will have their bar gauges. You can know the relative value how long it takes the maximum with it.
Any Comment?
1469 Posts | Page 1/245
moodirun
Its no ninelives :(
Антон
Прошлый проект был лучше, надеюсь вы его продолжите!!
You guys rock!
Great job on the game guys! I love playing this on android. It is really impressive. Keep up the good work!
Asher
Guys hello
How can I contact you?
Silverwolf
有難う御座います!
キャラクター追加できました。
お礼にもう1人追加しました!
これからも良運営で宜しくお願いします🎵

SmokymonkeyS
@Silverwolf そちらの購入IDを添えてtriglav@smokymonkeys.comまでメールください。
About
SmokymonkeySとは、2名のアマチュアによって結成されたユニットです。 ゲームやその他作品を無所属で個人開発しています。
2002年 WebゲームTRIGLAVを公開。 現在も稼動中で総勢50万アカウントを超える長寿ゲーム。
2015年 3DアクションRPG Ninelivesを公開。現在開発休止中。
2017年 プロジェクト「Modoki」開始。
2018年 モバイル版 TRIGLAVリリース。
SmokymonkeyS is a two-man indie team by a programmer and a graphic designer, formed for creating games.
Our 1st game TRIGLAV, a web RPG that has been made with JavaScript has made over half a million accounts since it launched 2002.
On 2015, our 2nd game Ninelives suspended the development at Alpha stage.
On 2017, started to launch the new project called Modoki.
On 2018, Triglav for Mobile releasing.