Ninelives Review
2015-12-08 02:23:36 | CharlieX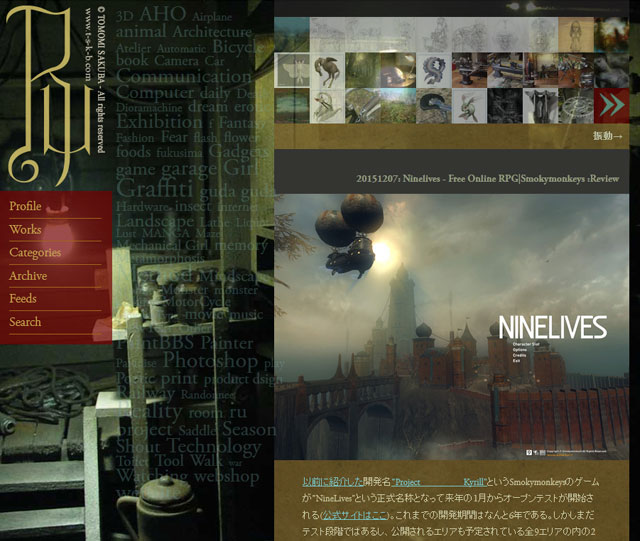 草花や虫のテクスチャ作成、テストプレイヤーなど、多方面で協力してもらっている、
作場知生
氏が、自身のBlogにこのゲームのレビュー記事を公開した。彼には、まだこのゲームがゲームとすら呼べないほど未完成のうちから、ずっとテストプレイをやってもらっている。現在、間違いなく世界一このゲームをプレイした男と言っていい。そんな彼が書いたレビューは、作者以上にこのゲームが持つテーマを的確に捉えている。ぜひ一読してほしい。
SAKUBA Tomomi
, an artist, a developer of
Garage: Bad Dream Adventure
and a tester of this game has uploaded a review of Ninelives on his website. That's sad that written in Japanese though.
Any Comment?
1291 Posts | Page 1/216
rina
再開を楽しみにしています
Mike
Release the source code please! :/ We want to continue this project and improve
GER1794
Please re-upgrade triglav, you should not die this great game
Eddy
Sad to see this end, would love to see the project sourced to continue work with it
RIP
RIPRIPRIPRIPRIPRIPRIP
Mimi
PLEASE Source the project!
About this Blog
SmokymonkeySが現在開発中のゲームについて、あれこれ書いているブログです。 Unity3Dゲームエンジンを使っています。
This deblog is reporting work in progress of SmokymonkeyS, an independent two man team computer game developper. We are using Unity3D game engine.
About Us
SmokymonkeySとは、2名のアマチュアによって結成されたユニットです。 プロのゲーム開発者ではありません。ゲームやその他作品を無所属で個人開発しています。 2002年にJavaScriptベースのブラウザゲームTRIGLAVを公開。現在も稼動中で総勢50万アカウントを超える長寿ゲームです。
2015年、アクション・アドベンチャーRPG Ninelivesを公開。現在開発休止中。
SmokymonkeyS was formed by two guys. We are not professionals for creating games. We are just an amateur two man who has other job and doing our work at part-time. Our 1st game TRIGLAV, a web RPG that has been made with JavaScript has made over half a million accounts since it launched 2002. As for our 2nd game Ninelives, we suspended the development at Alpha stage.