500,000 Downloads!
2020-10-04 15:37:19 | CharlieX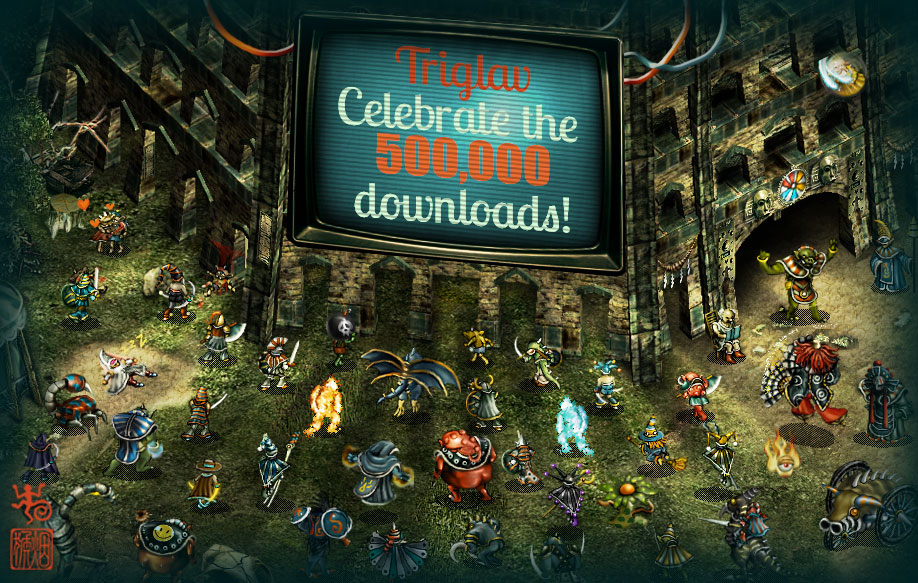 ▶ Japanese
▶ English
モバイル版トリグラフのダウンロード数が累計50万を超えました。
この50万という数字には少し思い入れがあって、それはオリジナルのWeb版トリグラフが7年かけて到達した合計アカウント数がこの数字でした。このゲームが誕生してさらに時間が過ぎた今、たった2年で同じ数字に達することができたことをうれしく思います。50万という数字は、個人によって、誰にも頼まれず、割と好き勝手につくられたこのゲームにとっては、とても重みのある到達点です。
50万ダウンロード記念として今月末までにゲームをアップデートすると、無料で150スカラベジェムを入手できるイベント開催中です。
どうもありがとう。今後もよろしゅう。
iOS版 (App Store)
/
Android版 (Google Play)
Triglav for mobile has passed 500,000 downloads total for 2 years.
Well, this number is a little bit special for me. The web version of Triglav went 500,000 downloads by spending 7 years, but we spent only 2 years this time. I'm so happy to the reached point because this game is made by a really small team entirely on our own terms.
We would like you guys to accept 150 Scarab Gems for free as a token of our appreciation.
Thank you for your playing and continued support!
iOS (App Store)
/
Android (Google Play)
Any Comment?
1515 Posts | Page 1/253
nocti
Triglav Mobile is the best idea and the best game ever. I have been playing Triglav since secondary school and now as a father to two kids, I am still playing! Keep it up and continue this game for decades more to come.
MemaT
Ninelives would be the best mmorpg if it was multiplayer..
MemaT
Ninelives multiplayer olursa benim gözümde en iyi mmorpg oyun olur.

SmokymonkeyS
Happy to hear that. Thank you. The train and tower project called Modoki is currently suspended for focusing our next mobile project.
BadWolf
Also what about that "Train and Tower" project?
BadWolf
I am huge fan of your works. I am following your works since project kyrill (also the suspension of ninelives made me really sad) Anyway I really really want to see more projects like Triglav or Ninelives
About
SmokymonkeySとは、2名のアマチュアによって結成されたユニットです。 ゲームやその他作品を無所属で個人開発しています。
2002年 WebゲームTRIGLAVを公開。 現在も稼動中で総勢50万アカウントを超える長寿ゲーム。
2015年 3DアクションRPG Ninelivesを公開。現在開発休止中。
2017年 プロジェクト「Modoki」開始。
2018年 モバイル版 TRIGLAVリリース。
SmokymonkeyS is a two-man indie team by a programmer and a graphic designer, formed for creating games.
Our 1st game TRIGLAV, a web RPG that has been made with JavaScript has made over half a million accounts since it launched 2002.
On 2015, our 2nd game Ninelives suspended the development at Alpha stage.
On 2017, started to launch the new project called Modoki.
On 2018, Triglav for Mobile releasing.