Triglav is an action RPG made with JavaScript that can be played through a web browser. You can play for free. The update keeps continues on the mobile version. Download iOS version on App Store, and Android version on Google Play.
News and Updates
2019-8-9
Summer Festival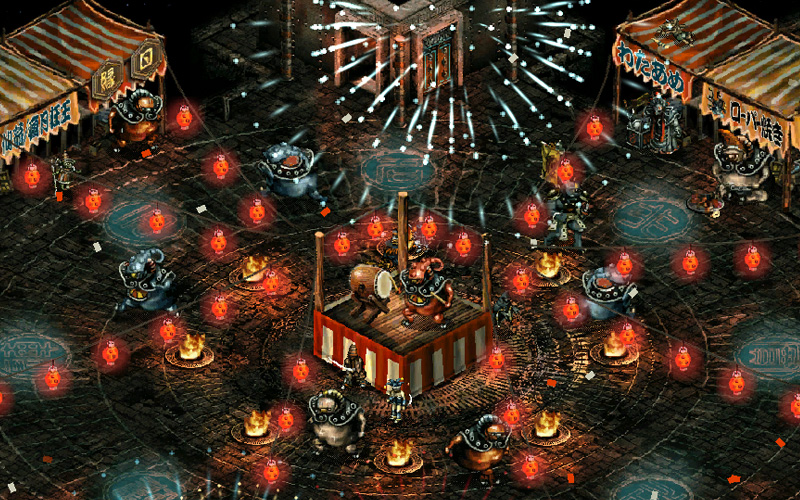 Triglav for mobile launches summer festival called Muggy Festival on August 9th to 18th.
At the 11th floor in the tower, fatmans are doing their own festival. You can enjoy the shopping to buy several limited foods and items, or challenge their arena championship by purchase the special ticket. Go to update your game and enjoy the festival!
iOS (App Store) / Android (Google Play)
Version 1.2.306 Full Release Note

Muggy Festival will begin on August 9th to 18th. Enjoy the fireworks and shopping!
Now working on a new floor called The Boundary. Added some hidden items on the several existing floors to open its path.
Added a new quest at the elven Hollow Village.
Added two new event cards. 24F doppelgangers and 37F mimics event card has been removed instead.
Doppelgangers on event card will suit more in tune with the player's level.
Added some new items for event, etc.
Fixed a bug that allowing equip other class equipment.
Fixed a bug that could lock or unlock a puppet after used.
Fixed a problem that you cannot get a key from 19F boss by Damage Reflection.
Fixed a bug that elf girl is disappear when unlock the door of her prison at Nightdreamer Cave.
Carrion Vine's ranged attack, Ogre Mage's ice shards, Warlock's fire storm, and Slimeness's poison gas cannot reflect its damage.
Orochi turns to Rare from Artifact.
Changed the Exite's vitality based on XP to vitality based on kills.
Changed the basic player moving. When tap and holding the screen on a targetable object, player will move to the point. On the old version, player do nothing on the same situation.

Copyright © SmokymonkeyS All Rights Reserved. | |
Official Website
|
Official Twitter
|
Privacy Policy